As a child, Jan Jirsik couldn't imagine that the free time he spent with his uncle-programmer would have an important impact on his future. As he sought a career path that would make his family life easier, Jan got back to his old passion, programming. 
Two years after graduating, Jan found his way back to Coding Bootcamp Praha, but this time in the role of a mentor. Currently working as a full-stack developer at Nano Energies, he enjoys spending his free time with his family and children. Weekends are reserved for adventures such as climbing and freediving. 
Jan, tell us more about how you discovered programming and IT?
I like to say that programming and IT came to me long before I could even consider them as my future professional path. As a kid, I was watching my uncle who was programming in his free time. His hobby was my entry point to technology and raised my awareness of programming. He introduced me to Delphi and that is where my interest in coding was born. 
At the Czech Technical University in Prague, I followed a basic course in programming and got in touch with PHP. During those classes, I got overwhelmed by too many subjects that I was not interested in so I decided to stop it. Web development was a part of me. At that time, I just couldn't find the right way to make all this work out for me. The real beginning happened in the bootcamp when I faced the pre bootcamp studies.
How did your career path lead you to Coding Bootcamp Praha?  
After one year of living in Great Britain, I got back to the Czech Republic and applied for an air traffic controller position at Air Navigation Services. Instead, I became a pseudo-pilot and kept that job for almost 8 years. After that I became the head of that department for another 2 years. I started to think that computers could become a part of my job and since that seemed like a feasible idea, a change was the only thing on my mind. I decided to follow the passion of my younger days.
"Somehow, I was waiting for my moment to become a web developer, and I saw Coding Bootcamp Praha as the perfect opportunity."
At that point, my situation was special. I was over 30, had 3 kids and it was impossible to move around Europe to study. I was seeking an efficient and affordable bootcamp, the one that will give me the necessary knowledge in a short time. Reviews convinced me that three months in CBP could be ideal to learn the basics, and for me, it was the maximum time I could invest in learning. 

What is your best memory from the bootcamp? What was your biggest challenge? 
The technical topics required to stay focused for a sustained period, so some days were more challenging than others. In three months of the bootcamp, we covered lots of new topics, so at some point, you can feel overwhelmed. Overall, bootcamp fulfilled my expectations and all went exactly how I wanted it. 
"Demo day was the most memorable moment because it made us feel good seeing that we all made it. I felt relieved, proud, and excited that I finished with all of my colleagues."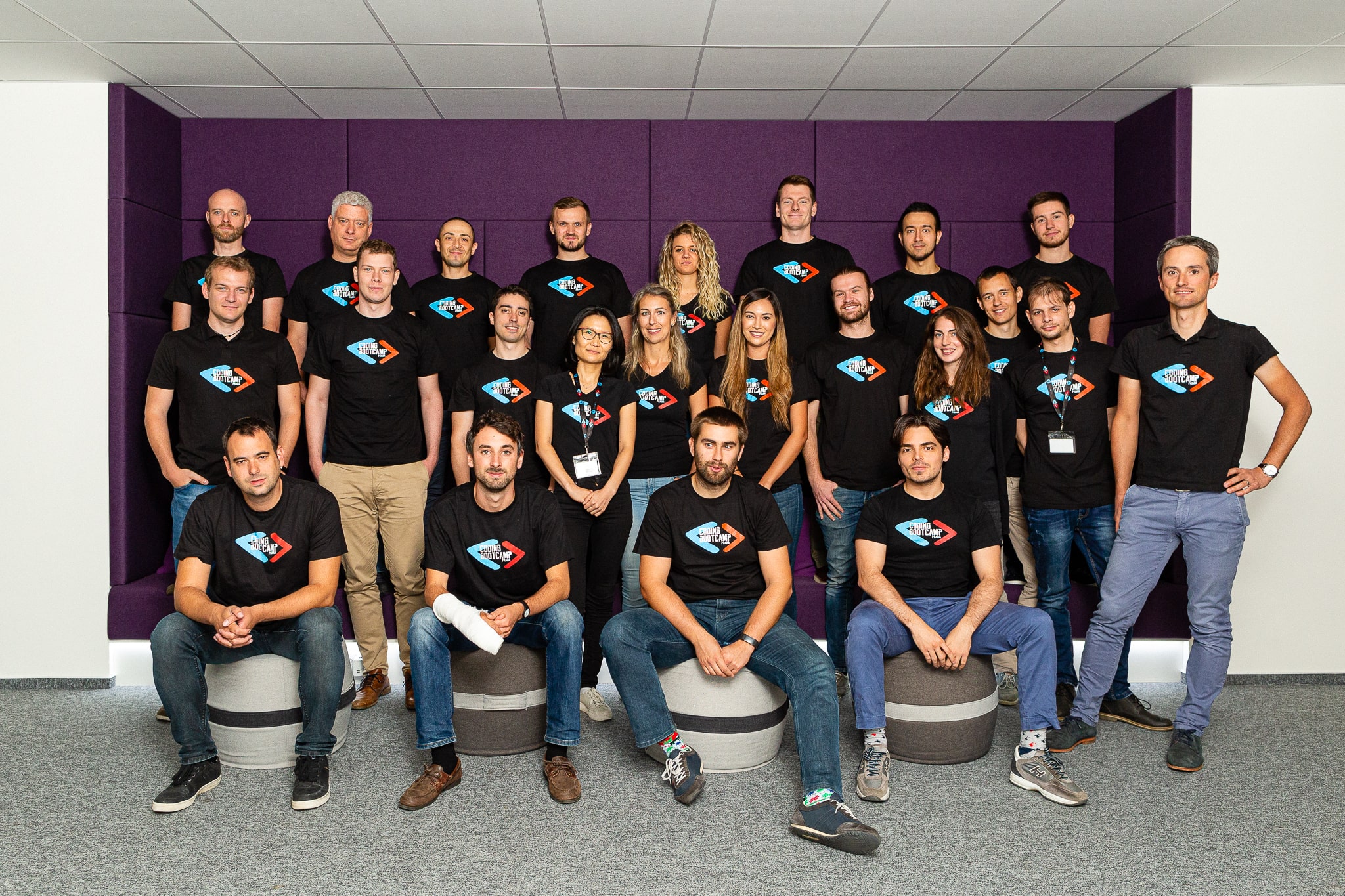 Which part of web development did you prefer during the bootcamp? Did those preferences change during your working experience? 
Since the bootcamp started, I was interested in back-end development, even for my final project and during my job search, I was mainly looking for back-end positions. I am not sure If I was considering a full-stack job at that time but I like it a lot now. It is more flexible, I can jump from the back-end to the front-end when I get fed up with one or another and I love it.
Do you have any tips for students struggling to learn? 
Coding is a process, with no shortcuts. Everyone is different and has diverse experiences. No one is capable of extracting and understanding 100% of the bootcamp topics. I suggest choosing between PHP, Laravel, JavaScript, React, or something that interests you the most. Then, put all of your efforts into learning a language and framework that works best for you. 
How was your experience finding your first job after the bootcamp? 
Even before the end of the bootcamp, I started to feel time pressure to find a job. We started the autumn batch in September and it finished at the end of November. The pressure for me was high because, at the same time, a few changes happened in my family, so I knew that I had to start my first job somewhere in January.
My only focus was to get a job. So when I got the first offer, I accepted it without thinking about it. It ended up being everything I didn't want :D The next company looked promising, but I faced another disappointment: I didn't like it either. But I knew that it was only a matter of time to find a job that suited me. The good thing was that regardless of disliking my first jobs, I could see that I got offers and that I had the wind at my back.
What tip could you give to our students concerning job hunting?
It is difficult to advise people to not be stressed. It depends on the personality and the situation, but I guess everyone will go through job hunting and have different experiences. Appreciate the support from the workshop that CBP offers because there are plenty of useful tips. You will get offers depending on how much you engage yourself in job search, so make sure you work on that. If I wasn't under pressure, I probably would have been pickier and I wouldn't have accepted the very first offer.  
"If you have enough time to invest in your job search, I would suggest considering different options and choose the one that fits your standards."
You mentioned you have a flexible schedule, tell us more about your experience?
After ten years, being in the office from 9 to 5 didn't resonate with me anymore. I wanted to have a more flexible schedule that will provide me more time with my family. Now I work as a full-stack developer at Nano Energies. I am free to work however suits me. Of course, it is an average of 8 hours of work, but I can organize the time according to my plans. It is important to communicate with officials about your working expectations and feasible options. When you work with a boss who is ready to communicate and discuss your situation, you can probably find an agreement. 
In that case, what working model works best for you, remote or in the office? 
As a junior, when I started I was 100% in the office and I would recommend that to every beginner because it gives you a chance to learn better from colleagues. When you sit with someone in person, you can take a look at his screen, go through the code together and find a solution faster. In my opinion, it can be difficult remotely, but that is just according to my experience. Currently, I am working a few days at home and some days from the office and it feels like the right way for me.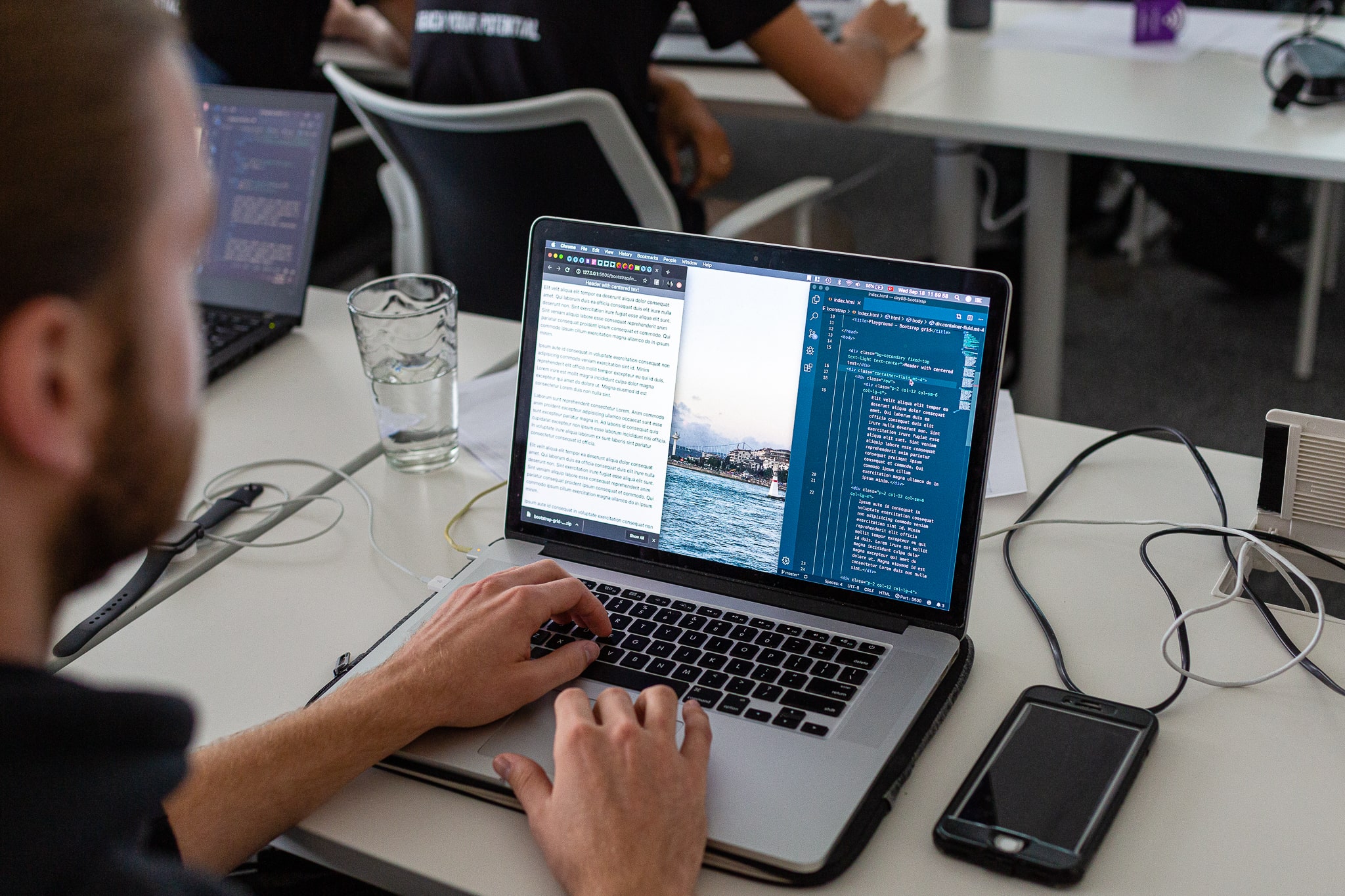 How do you keep learning at work?
I am glad that at my job we try new things and technologies all the time. It is nice when companies let you learn during working hours because it is harder to find extra time for it after work. This is way more enjoyable and comfortable.
Why did you decide to be mentoring at the bootcamp? Did you have mentoring experience before?
As I mentioned, I worked as a pseudo-pilot so training was part of my job. Being a mentor is kind of related to it and I am glad for this opportunity. When I was a student myself, I thought that mentoring would be a good experience. But back then, I didn't feel confident enough to be able to consider that position right after the bootcamp. Now I think the time has come because I gained experience, confidence and I am excited about what mentoring will bring. It feels really good to help and explain to students something that they struggle with.
Did you stay in touch with other colleagues from bootcamp? 
I am in touch with a few people and sometimes we go for a beer. It feels good to meet with them from time to time. Especially because we shared the experience of changing a career and attending CBP together. It is great to see how we all built our careers in IT. I love hearing how they are doing at work and sharing the knowledge we gained on the technologies we use in our jobs.
Do you have tips for students who are starting the bootcamp? 
During bootcamp, I considered myself a great beginner. For anyone who feels like that, I would recommend studying in person. Not only from a learning perspective but also to share the same struggles with other students. It's better when you're not sabotaging yourself with the thought that you're the only one having a problem. You can share your feelings with others. Plus, according to my learning journey, I would suggest putting extra time to understand pre bootcamp studies and do deeper research on the topic/language that interests you the most during the bootcamp.