Anđelko and Marko are two young men from Croatia who have been friends long before the bootcamp. They both got accepted into the program and they successfully graduated from the Winter Batch 2019 together, which makes it a pretty cool story by itself. Where are they now and what were their thoughts during the time they were studying at the Coding Bootcamp Praha? Read it all below!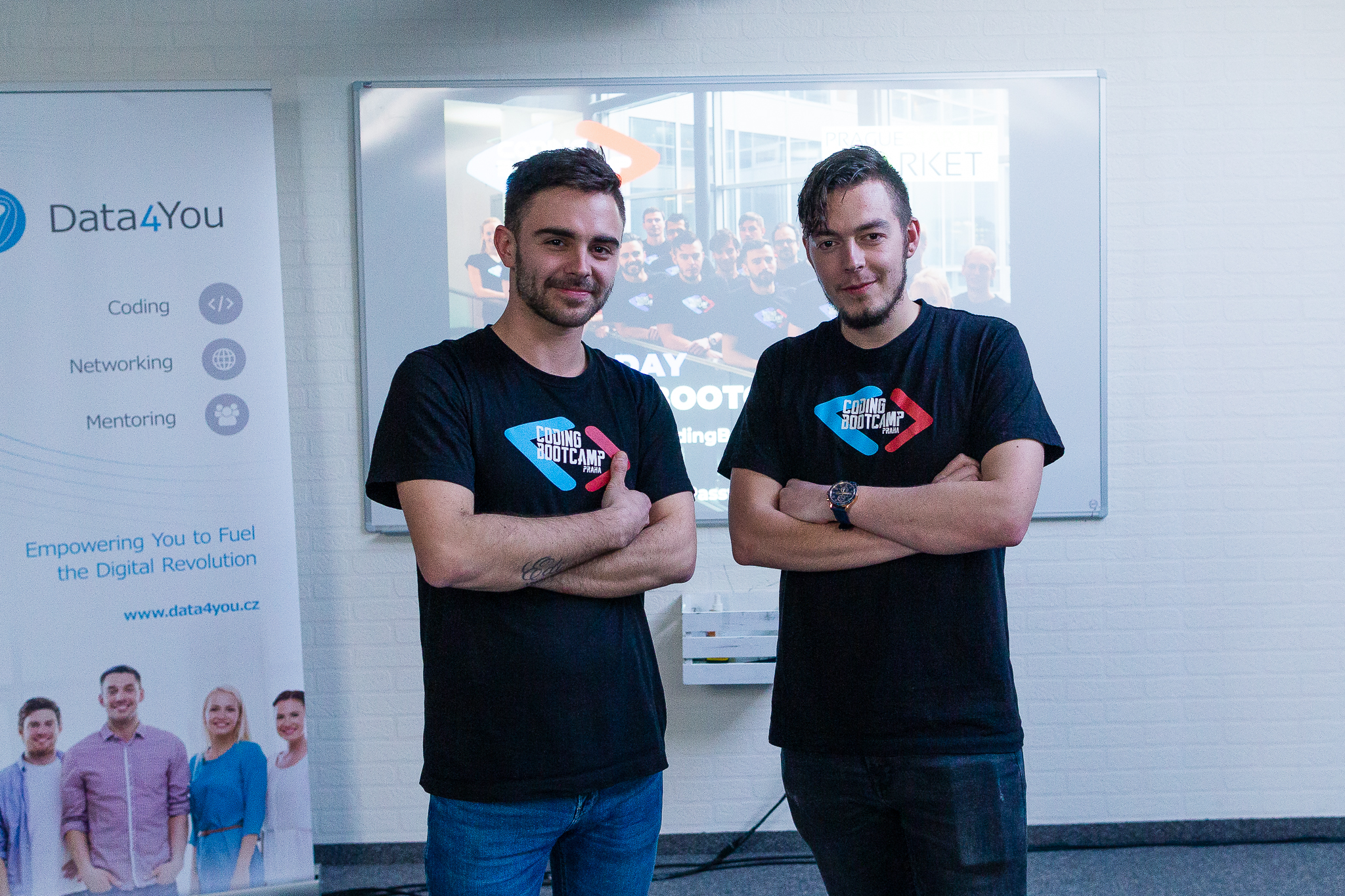 What did you do before the bootcamp?
Anđelko: Before the bootcamp I was a window cleaner in England and I had been working for 5 years as a bartender in Croatia.
Marko: Well, before the bootcamp I was a waiter for almost 5 years working in one of the finest restaurants in Croatia. For that period I thought that was what I wanted to do in my life. Me and my colleague Anđelko were working in the same restaurant, and then one day we just decided to change our life paths.
Why did you decide that you want to learn programming?

Anđelko: Programming was my hobby and I decided to change my career as I always knew I could do more than working as a bartender.
Marko: I always had a thing for computers, but honestly I never had enough time (and resources) to start off my developer career, until I found out that there is something called coding bootcamps.
What made you choose the Coding Bootcamp Praha?

Anđelko: Well, first of all, value of money and knowledge to gain were just perfectly balanced, and second thing, Prague is one of European centres of culture and a paradise for young people.
Marko: First of all, it was the closest one to my country, I had an opportunity to learn something new in a different country and again to be close to my home country so that I could travel back if needed. Secondly, the reviews and the price of other European bootcamps were very intimidating and most of the other bootcamps were teaching Ruby on Rails, which, when you compare it to PHP, is in a huge decline.
How was your experience at the bootcamp - instructors, other students, team projects, hackathons, Demo Day etc?

Anđelko: My experience at the bootcamp was amazing. Instructors are super cool and highly experienced. We had a pleasant time and to be honest, instructors also have some really good music taste :-) Students were really good, some of them became my really good friends. The team projects were challenging but they taught me how to work with people in development. Hackathons and the Demo day were pretty fun as we had some nice parties after the work was done, it always felt like a nice reward after a hard day at work.
Marko: Overall the experience was great, I met so many people with the same state of mind as mine. The teachers were awesome, there was literally not a single question that I didn't get an answer to, overall the whole bootcamp was an eye-opener.
What was the biggest challenge during the bootcamp and how did you overcome it?
Anđelko: Biggest challenge for me was learning the backend development because it is really complex and a huge topic, but with enough studying it got way easier.
Marko: Honestly the biggest challenge was to start learning that much during the whole days, sometimes in a period of 15 hours. Basically you wake up at 8 o'clock, go to the bootcamp till 5 o'clock and then come back home and sit in front of your computer till sometimes midnight or 1am. And how did I overcome it? With litres of coffee during the day, that's how. :)
How long did it take you to find a job and where do you work today?
Anđelko: It took me less than a month to find a job and today I work as a full stack developer in a startup called Cross Masters, it is amazing as I just continue to learn new stuff and I'm getting a good experience out of it.
Marko: I started applying in the 6th week of the bootcamp, it took me maybe 2 weeks to find a job. The corporation is called Interactive Pro, they are building online educational systems for universities worldwide, and the job position is a Front End Developer.
What would you advise to anyone who considers signing up for a coding bootcamp?
Anđelko: I would advise to people signing up to a bootcamp to prepare well and to study but also to enjoy their leisure time because Prague is awesome and we all need some time for ourselves.
Marko: I would advise people from the next batches to start applying for job positions a bit earlier, maybe in the 6th week, and sort their paperwork for work as soon as they arrive if they plan to stay in the Czech Republic.
On a scale from 1 (worst) to 10 (best), how would you rate your experience here?
Anđelko: Clearly, I would rate it 10 because this was one of the best experiences in my life.
Marko: 10 out of 10! There were no negatives except that the weather is much colder in Prague than in Croatia. ;-)