Aryuana spent fifteen years in the United States, where she graduated and worked as a paralegal. She always wanted to travel around Europe and dreamed of living and working here. Her life journey brought her to the Czech Republic, to Brno, where her path to programming started.
Can you tell us something about your life? What did you do before coming to the Bootcamp?
Before the Bootcamp, I was working for the AT&T call center in Brno, helping American customers to solve their hardware and software issues with the Internet and TV. Before that, I studied Energy Security in Brno. There, I took some data courses including a programming language, and after that, I realized that I would like to learn more about coding and programming.
When I was living in the United States, I tried to find a coding bootcamp or some course because everyone is coding and programming. So, I realized, if you know how to program, even just to teach kindergarten kids the basics, this is the future, and I want to be part of it.
Are you working or are you just focusing on Bootcamp full time?
I'm just doing the Bootcamp. And then, once I graduate, I am interested in fully transitioning to the IT industry. Finding a job as a junior developer and going from there.
Do you have a more specific idea of what you want to do: a specific programming language, for example?
I would like to learn more Python. Now I am at a beginner's level. I did some Python on my own at home, but I would like to learn more about it. We are learning PHP, and I think this is a good start for me. From what I read and what the instructors told us, once you learn one programming language, it is easier for you to pick up the next programming language.
I think it is advantageous that we are learning the back end so I can understand the concepts and structures.
Do you have ideas about how you would like to use your newly-gained skills? Would you like to develop some apps, or?
What also pushed me to learn programming is an opportunity for creativity. I do not believe in nine-to-five kinds of jobs, although probably for a start, this will be my go-to plan. But eventually, I would like to have something of my own. Maybe a business, to build apps or websites for people or work on certain products which I can sell online, things like that. I strive for freedom and creativity on my own, in a field I could be good at. And I feel like a person should be born to do some things for their own sake. So, I feel like programming would give me that chance: to do something on my own, to be free in a way.
Now that we know why you decided to go for coding, did you choose Coding Bootcamp Praha because it was the only Bootcamp in the Czech Republic?
Actually, yes. At the time when I was searching around, almost four years ago, I did not know any other Bootcamp. Plus, a lot of people said it was worth trying.
I try to be careful, because in the United States when the trend was just starting, there were a lot of different boot camps, but what you got for the price, was not necessarily matching your expectations. So here, I was researching online, reading reviews, and I talked to real people, which added to it. I was thinking that I would like to try it, and I do not regret it. I would say proper researching matters, and this is why this boot camp stands out right now.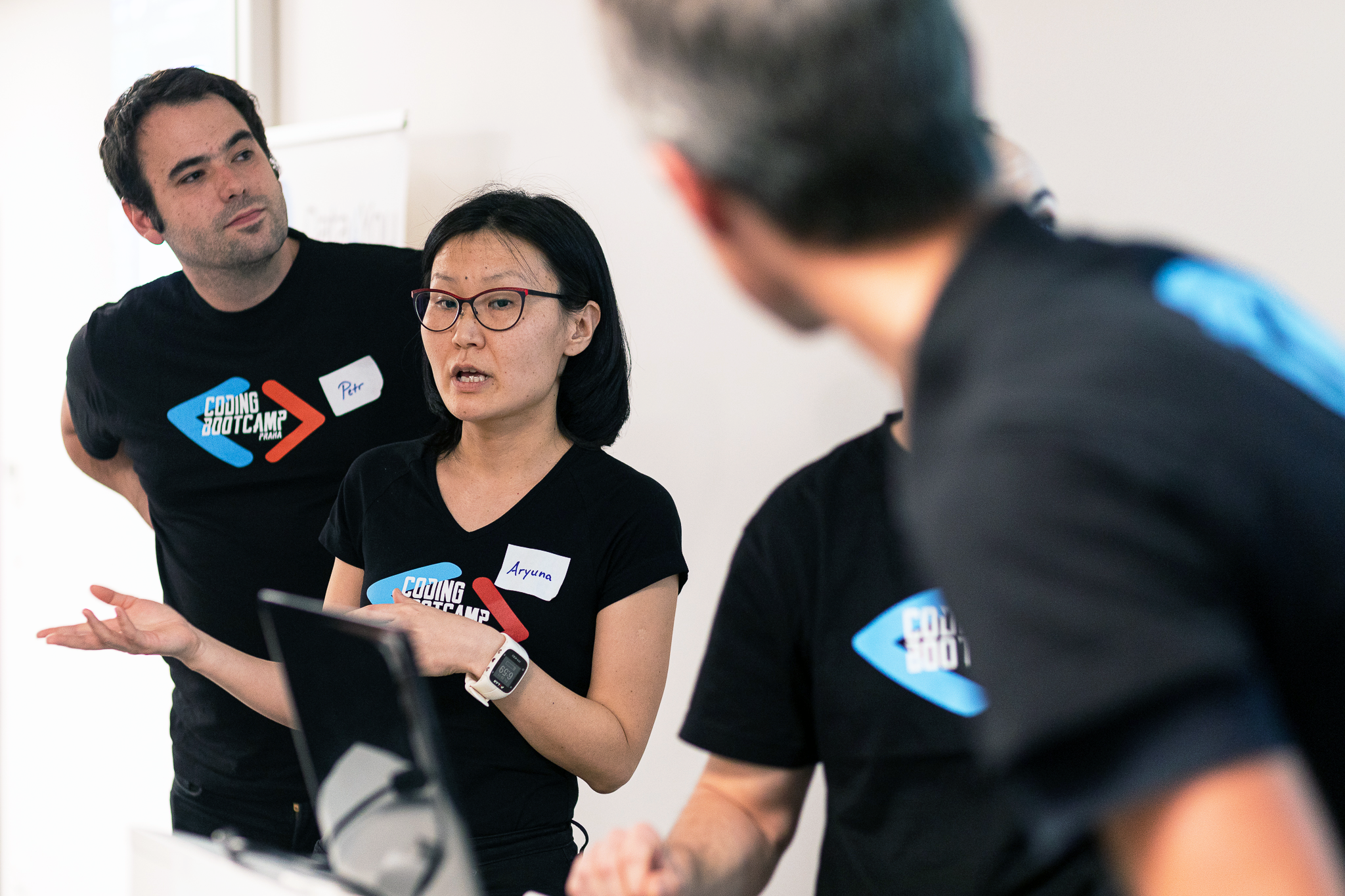 Did it live up to your expectations?
Yes. It is intense, and sometimes it is a struggle. You need to study hard on your own. You are not here from 9:00 am to 5:00 pm and done after that, the study continues after 5:00 pm, even on weekends. You need to make sure that you contribute as much as you can on your own.
They told us in the beginning: this is going to be tense, this is a Bootcamp, you need to put in 100 percent and more.
So, it's nothing that I was not expecting, but I kind of like this intensity, because if you do not understand something, it kind of makes you work harder, to get to the point where you understand. Once you get there, you are happy and proud because you get it. It's a great feeling. Almost like a drug, you just want to try more and more; that is the coolest part about learning.
How did you prepare for the Bootcamp?
I was working full time, so it was a bit challenging. But I was trying to commit at least a few hours a week. I did the courses online that were recommended, studied on my own, and watched a lot of YouTube videos. It is not difficult to prepare yourself if you want to. Plus, the materials that Bootcamp offered helped.
Was it important to prepare for the Bootcamp?
I think that is important, even if it is very basic material. I think it helped me because I did not feel lost. You want to be prepared, so you are not lagging too much. I recommend starting before. The courses that they recommended are not too difficult, and I think anybody can pass them easily.
What has been the biggest challenge so far in the Bootcamp?
For me it's been time management. I need to revise materials at my own pace to make sure that I understand everything, and that I do not miss any details. That takes time. I would suggest to any potential students to be aware of their time management skills, or limitations, and adjust, and adapt accordingly. I tried to keep up, to revise the material right after we covered it. This is what programming and coding is all about. You cannot learn just by understanding, you need to practice it. And sometimes, even though you do not understand certain parts, that is okay.
We have many female students in the bootcamp but statistically speaking there are still fewer software engineers who are women than men. Has this made any difference to you?
In a professional setting I do not know yet because I have never worked as a programmer. I have worked in telecommunications at the call center, but it was very diverse.
From what I read and hear from people, it can be a bit challenging. But there is a positive trend for women nowadays on the market. Employers are actively looking for women to employ. So I think that is a good sign and hopefully it might even help me find a job.
Is there any message you would like to tell anyone - men or women - who are thinking of taking up coding?
I feel like sometimes women may feel a bit discouraged, intimidated, or even shy to enter the industry. But there is a saying that your eyes are more scared of doing things than your hands, meaning that you do not really know the challenge unless you try it. So I would say just do not be scared or shy. If you like it, try it. I am sure you will fall in love with it. Of course, nowadays and on the market, there is no limit to opportunities for anyone. So as long as you work hard, you study hard, I think it will come to you.